Today, 20 Days to 20 Years takes a look at a significant year in the history of Disneyland Paris- 1994. Co-hosts Beth (Pursuing the Magic and Magical Blogorail creator) and Manda (owner of Manda's Disney Blog) welcome our good friend Debra to the series. Deb is a veteran blogger, Disney Hop innovator and mentor to all! If you haven't witnessed her commitment to the Disney community, you must follow her blog, Focused on the Magic, and take part on one of her fantastic Hops: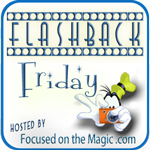 Bonjour everyone! Today I'm going to share with you a little bit about what was happening in Disneyland Paris in 1994.



What a year! If a book were written about the year 1994 Disneyland Paris, it would read like a Disney fairytale. Starting in the first chapter of that year EuroDisney was heading for sure disaster and financial ruin. As the year and story would progress, drastic changes took place and the dreams of a magical park in France began to rekindle. Financial institutions were called in and executives made hard decisions. Creative financial restructuring, negotiations and belt tightening were initiated to save the park. As happens in many a Disney story EuroDisney was saved from it's dire straights and the year 1994 had a very happy ending. Tourists flocked to the Disneyland Paris hotels breaking attendance records by August of that year.



What's in a name? Part of the restructuring fresh start for EuroDisney involved a new name for the park. In October, EuroDisney would be officially renamed, Disneyland Paris!



What did it look like? Here is a fabulous promotional video made by Disney to promote the new and improved Disneyland Paris. It's long but well worth a watch as it shows so much of what the park was like back then. One thing I found nostalgic, was seeing *real* prop guns being used in shows and attractions and also seeing the Can-Can stage show. It was much like the one I remember from The Diamond Horseshoe show in Disney World. The voices are crudely dubbed and the accents are a little different but I think you'll enjoy it.
uploaded by Vegi
tabeta's
- ©Disney
We're guessing the name change took! Please find more of Deb's work on Facebook at Debra Ann,
@debsdistwit on twitter, and Pinterest.
We excitedly look towards tomorrow, and a post from another dear friend and longtime Disney blogger- Diane (from CanDoItMOM aka Mouse Fan Diane); 1995 is all yours!